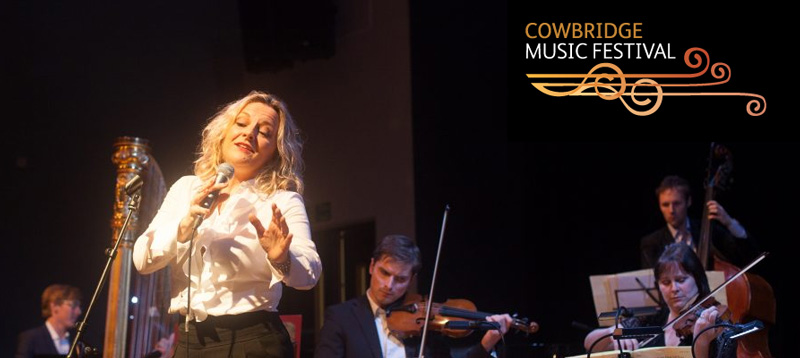 Cowbridge Music Festival has announced this year's programme of main events despite the current uncertainties to help give something to look forward in October. As usual there is an outstanding lineup of world-class performers providing classical, contemporary, jazz and folk music to suit all tastes.
Programme
THE FEINSTEIN ENSEMBLE
Saturday 3 Oct
Baroque showpieces by Bach, Vivaldi and Telemann performed by one of Europe's leading period groups…
MYSTERY CONCERT
Sunday 4 Oct
This concert is being kept tightly under wraps for the moment. More details to be unveiled in June…
MIDNIGHT IN PARIS
Monday 5 Oct
Parisian rising star Camille Thomas, is joined by Julien Brocal in a programme of French music for cello and piano…
THE PIATTI QUARTET
Thursday 8 Oct
The Piatti Quartet, one of the most distinguished young quartets of their generation, perform works by Dvorak, Turnage and Beethoven..
DRAW BY FOUR
Friday 9 Oct
Contemporary jazz with one of London's leading saxophonists and his acclaimed hammond organ jazz quartet…
FLAMENCO WITH THE PABLO DOMINGUEZ QUINTET
Sunday 11 Oct
Cowbridge Town Hall transforms into an Andalusian Flamenco club for one night only…
THE SITKOVETSKY TRIO
Wednesday 14 Oct
The Sitkovetsy Trio make their eagerly-awaited return to the festival with an all-Beethoven programme in celebration of Beethoven 250…
YOUNG ARTIST'S RECITAL
Thursday 15 Oct
Wrexham-born pianist Luke Jones performs Mozart, Beethoven, Prokofiev and a specially commissioned piece by Sarah Lianne Lewis…
IAN BOSTRIDGE AND JULIUS DRAKE
Friday 16 Oct
Two renowned masters of the lied recital perform perhaps the most celebrated work for tenor and piano, Schubert's 'Winterreise'…
FAMILY CONCERT
Saturday 17 Oct
Join Children's Musical Adventures as they voyage into outer space, discovering music from 'The Planets' by Holst…
CLARE TEAL AND HER TRIO
Saturday 17 Oct
One of the UK's leading jazz singers closes this year's festival with a programme of songs from the Great British and American Songbooks…
For full details and tickets visit Cowbridge Music Festival